It's about time to call the end on the last poll with 70 votes gathered so far and draw the conclusion: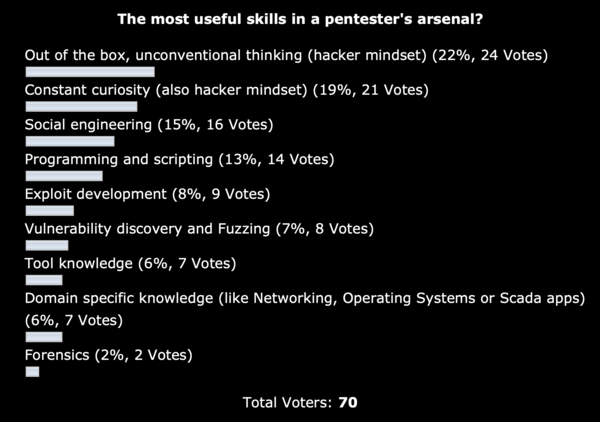 The most useful skills in a pentester's arsenal?

* Out of the box, unconventional thinking (hacker mindset) (22%, 24 Votes) * Constant curiosity (also hacker mindset) (19%, 21 Votes) * Social engineering (15%, 16 Votes) * Programming and scripting (13%, 14 Votes) * Exploit development (8%, 9 Votes) * Vulnerability discovery and Fuzzing (7%, 8 Votes) * Tool knowledge (6%, 7 Votes) * Domain specific knowledge (like Networking, Operating Systems or Scada apps) (6%, 7 Votes) * Forensics (2%, 2 Votes)
Total Voters: 70
As it turns out, the 3 leading ones are soft skills, the ones that can't really be learned and have much to do with personality and character. I assume this is only natural, there's no point in having or going for the hard skills (the ones that can be acquired) if there's no motivation or direction underneath, to put things in motion and more important, to keep them in motion.