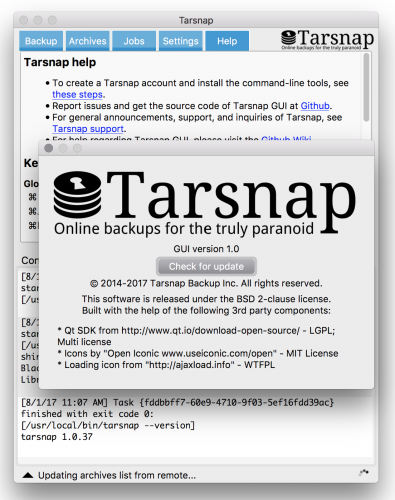 Tarsnap GUI v1.0 on MacOS
Quick update, I've just release the first stable version of the open source cross-platform front-end for the Tarsnap secure online backup service. Here's an excerpt from the Tarsnap GUI v1.0 release notes:
"The chosen one."

This release is the culmination of all the previous efforts to bring Tarsnap GUI to a point where it is feature rich, reliable and robust enough to be called "stable". We have been hard at work to bring you the most complete cross-platform open-source and non-intrusive secure online backup solution front-end on top of the tarsnap service possible. This release adds many new features like support for automatic job backup scheduling enable/disable, full I18N support, full search/filter capabilities in Archives, Archive contents and Job lists, detailed Archive contents using long ls list format with sortable columns, save console log to file and running concurrent restore operations and more, as well as many many improvements, code refactoring, fixes and overall adjustments on speed, resource usage, reliability, usability&accesibility and error management & reporting.

For a complete listing of changes and additions see https://github.com/Tarsnap/tarsnap-gui/blob/v1.0/CHANGELOG

For announcement e-mail see https://mail.tarsnap.com/tarsnap-users/msg01406.html
Grab it from Github, take it for a spin and let me know what you think.